About Our Patriot - Dr. J.P. Sharma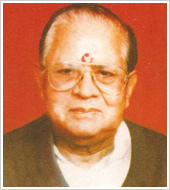 Born on 14 October, 1938 at village Gobindpuri in a family of agriculturists being the youngest of the three brothers. He rose from a village environment to enroll in a medical college & completed his MBBS & MS (General Surgery) from Medical College, Amritsar. He was working as associate professor at Dayanand Medical College, Ludhiana in 1972 when responding to his father Pt. Jhandu Lal Sharma call, he shifted to Yamuna Nagar & set up Lal Maternity & General Hospital.
He along with his wife Dr. Krishna Pandit worked day & night to serve the ailing humanity in this medically backward area in thosedays. He had a passion for acquiring latest instruments & equipments. He was very popular doctor & a social figure. He was thrice president of Indian Medical Association, Delhi. He was also President of the Northern Chapter of Association of Surgeon of India. After serving the medical field, he wanted to contribute his services to the political erena. He was elected MLA from Yamuna Nagar. He had a dream to set up a world standard Institute offering medical education in various fields.